01.22.2012 (684 Days Ago)
News
ali bey hassan
panther 21
| | | | |
| --- | --- | --- | --- |
| Title | | Bro. Ali Bey Hassan Joins the Ancestors | |
From: Daphne MsLyricology Burnett - 1/13/12

The LORD has called my dad home today...I'm numb, but not sad, because I've had some really great times with my dad...my last physical moment with my dad on his birthday, Dec. 29, 2011...and on Jan. 1, 2012, I called him to wish him a Happy New Year...he answered the phone...the conversation was brief, because of oxygen. But I said; dad happy 2012, he said; I made it to 2012 and I said, because your a warrior. " Born to struggle...Struggle to win "...by I. Burnett Jr.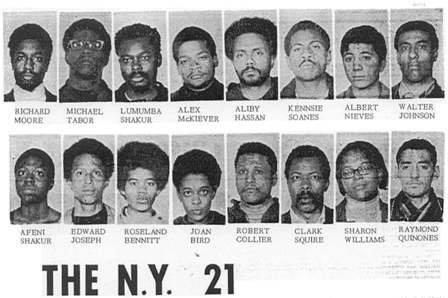 "The New York 21" were arrested in a pre-dawn raid on April 2, 1969 and charged with conspiracy to blow up the New York Botanical Gardens, department stores, etc. On May 13, 1971, after the longest political trial in New York's history, all 21 New York Panthers are acquitted of all charges in just 45 minutes of jury deliberation.

The acquittal of "The New York 21" was a major political setback and embarrassment for the Manhattan District Attorney's office and the New York Police intelligence unit known as BOSSI which extensively infiltrated and disrupted the BPP's community programs.
----------
From BPP Tribute Page

For Pops
Yesterday I felt you crossing the waters to join the other,
Lumumba, Collier, Kuwasi, Cetewayo, DC, Geronimo,
Dr., Sue, Janet, Safiya, Diane, Nuh, Gil, Storkley., Tupac,
the list goes on...the list grows long
we will miss,your tall wise talesr funny chuckle,
your big heart that touched and housed so many
from strong winds blowing
A kiss, a smile, a teardrop...from me to you
you who modeled to us the true meaning of family.
like crazy glue, you held us bonded, sisters, brothers,
mothers, fathers, aunties, uncles, friends
comrades,in love one to the other....
we gon sho nuff miss you...
Yesterday I felt you crossing the waters to join the others
I feel you right now smiling in a silver cloud...or maybe
Rest in Peace My BROTHER of brothers
Sister Malika
From Allah we come to Allah we return:


---

Sadly I was informed that my old comrade Ali Bey Hassan, has transitioned an hour and half ago.  Ali Bey was a steadfast activist and revolutionary, his acerbic humor and unwavering courage during our most difficult struggles in and out of the courts, will always be a part of my own life experience, and it is good to know that I had the privilege of being his comrade, and friend.

In struggle

--
Dhoruba DBW
CLICK HERE FOR VIDEO OF ALI BEY HASSAN MESSAGE TO SUNDIATA ACOLI
CLICK HERE FOR SLIDESHOW OF BRO. ALI BEY HASSAN (Submitted by Bro. BJ -- William M. Johnson)






Bro. Ali Bey Hassan Joins the Ancestors
There are no comments yet
Ali Bey is truly one of the "originals", was a part of the Panther 21 case, and has a lifetime of involvement in the struggle to end the oppression of all people.
Other News in this Category