01.23.2012 (1132 Days Ago)
Liberation News
| | | | |
| --- | --- | --- | --- |
| Title | | How Gil Scott-Heron and Stevie Wonder Set Up MLK Day | |
How Gil Scott-Heron and Stevie Wonder set up Martin Luther King Day
In an extract from his memoir written before he died last year, Gil Scott-Heron talks about when he toured with Stevie Wonder to establish Martin Luther King Day as a national holiday in the US.
Sunday 8 January 2012
Memphis, Tennessee was only 90 miles west of Jackson, my childhood home. But Memphis was as far away as the north pole in my mind. The history that we were given about it was done in light pencil that hopscotched its way to a semi-solid landing with Elvis Presley on The Ed Sullivan Show. Sun Records considered itself the fuse that lit the 1950s with Elvis and rock'n'roll. With Carla and Rufus Thomas and Otis Redding, Stax Records brought blues to the hit parade with hooks and horns and a solid beat, evolving into Al Green and Willie Mitchell. Memphis meant music.
And unless you stop to think for a minute, you might forget that it was in Memphis that Dr Martin Luther King, Jr was shot and killed on a motel balcony on 4 April 1968. Stevie Wonder did not forget. In 1980, Stevie joined with the members of the Black Caucus in the US congress to speak out for the need to honour the day King was born, to make his birthday a national holiday.
The campaign began in earnest on Halloween of 1980 in Houston, Texas, with Stevie's national tour supporting a new LP called Hotter than July, featuring the song Happy Birthday, which advocated a holiday for King. I arrived in Houston in the early afternoon to join the tour as the opening act. By 15 January 1981, King's birthday, I had been working on the Hotter than July tour for 10 weeks.
What's amazing about people who are supposed to "think of everything" is how many things have never crossed their minds. That was never more clear to me than when I saw how things looked from the back of the outdoor stage set up on the Washington DC monument grounds as Stevie's rally for King got under way.
I would never claim to be the smartest son of a gun on the planet. But by the same token, by then I had been in this business for 10 years and had to feel as though I knew more than when I started. I had some new information crossing my mind as I climbed the back stairs on to the temporary stage and looked out at perhaps 50,000 people standing shoulder-to-shoulder across the expanse of the Mall, chanting: "Martin Luther King Day, we took a holiday!"
The Hotter than July tour was a project that, when taken as a whole, was set up to cover 16 weeks, or four months, a third of a year. The endeavour was cut into two six-week halves with a break – a rest period – that lasted a month. In essence, this rally was the half-time show before the second six-week half. One thing that knocked me out looking at this half-time show was how much I had not thought about. Like how much work was involved in organising a fucking rally. That was what Stevie had done and what had to have taken up so much of his offstage time when we were playing, and what must have consumed what I was calling a "rest period". The rally. Ways to publicise it, ways to dramatise it, ways to legitimise it.
Some of it was obvious. You had to have permits, such as a licence to have a parade. That seemed bizarre, but it took a necessary number of police to close certain streets or divert traffic or just stand around looking like police. And on the monument grounds there were wooden saw horses and security and crowd restraints and a stage and sound equipment and technicians to set it all up and run it. And I was enjoying another piece of equipment I felt was necessary: a heat-blowing machine to warm my chilly backside.
I had no idea what this was costing, what the total expenses were. Nor did I ever ask about it and have the expenses incurred by Stevie neurotically concealed from me. I didn't have any way to justify saying: "Hey, just what the hell is this gonna cost?" I considered that this information was probably something that was being distributed on a need-to-know basis, and apparently I did not have that. I didn't worry about why.
My respect for Stevie Wonder expanded in every direction that day. I was following his lead like a member of his band, because seeing as he had envisioned was a new level of believing. It was something that seeped in softly, and when you were personally touched by someone's effort and genuine sincerity, your brain said you didn't yet understand but your soul said you should trust.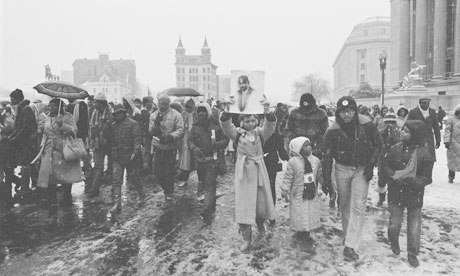 How Gil Scott-Heron and Stevie Wonder Set Up MLK Day
There are no comments yet